SCSS WP Editor – A Best WordPress SCSS Plugin in 2023
Hello👋🏿 Developers, You might have heard the word SCSS many times in Web Development. If you are a Web Designer then you must know everything about SCSS. Let's discuss something about it. SCSS WP Editor – A Best WordPress SCSS Plugin in 2023. You know very well that CSS is used to style all aspects of our Websites. It gives the front look of your Web Applications.
SCSS is like a standardized format of CSS. It comes with many functionalities like variables, nestings, and functions, and it is also faster to write than CSS once you will be more comfortable with SCSS.
A browser can not understand SCSS directly as it understands the CSS. So we need to compile the SCSS to CSS. There are multiple ways to compile the SCSS, with a help of packages and libraries.
I have created one WordPress plugin SCSS WP Editor. If you are looking to use SCSS with WordPress Admin? You are at the right place 😉. This is a very simple and easy-to-use plugin.
SCSS WP Editor will provide you to add SCSS from your WordPress admin. You just need to add your SCSS and save it. The plugin will automatically compile the SCSS to CSS with help of SCSSPHP. This plugin also minifies your compiled CSS. So it won't affect your site performance.
After installing a plugin in WordPress, you can directly add your SCSS in the editor block under Settings > WP SCSS. That's it.
We have now added support of Multisites, So you can easily manage your SCSS for all sub-sites.
Features of SCSS WP Editor
Easy to use
Code editor with syntax highlighting
Compile SCSS to CSS
Supports simple CSS
Automatically minify SCSS/CSS
Error Handling
Multisite Support
Any Theme Compatible
It has now 70+ active installations 🤩.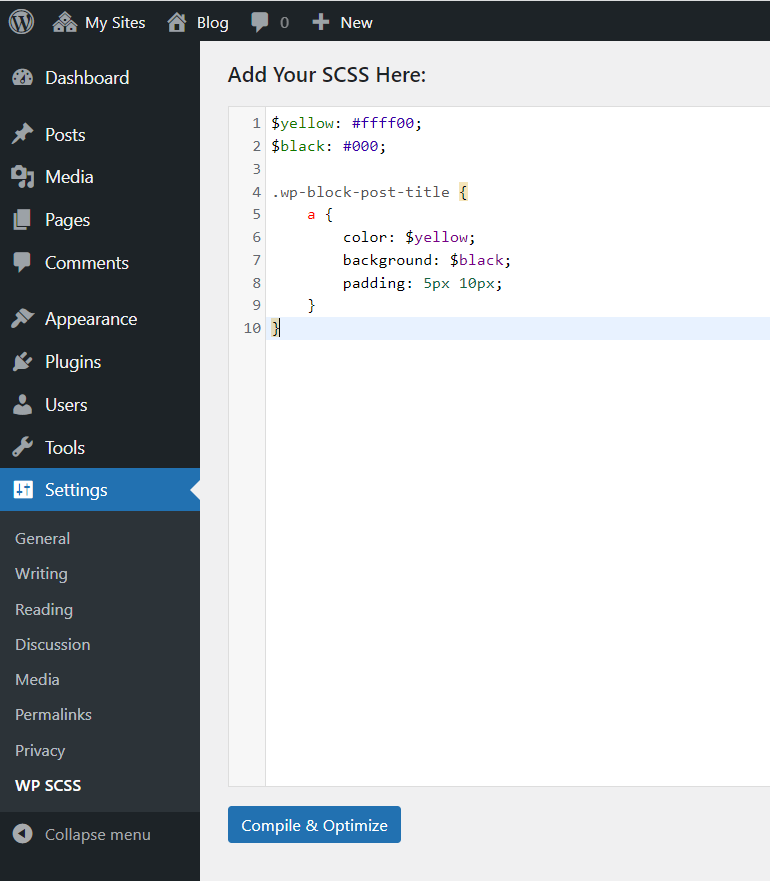 Don't forget to give a review 👍🏼 if you like the plugin. If you don't have an idea to use SCSS. Simply read the official documentation.